---
Sally Kelley - Kelleygreen Labradors, USA
In British and American standards today, yellows may vary in shades from the light cream to the darkest fox red, with variations in the shading of the coat and ears, the underparts of the dog and beneath the tail. The fox reds have always been in the American and British standards, but many breeders do not recognize them, the judges hesitate to put them up, and there are very few of them being bred.



The fox reds, like the chocolates, cannot be bred strictly for color, for then you lose all that you are striving for in a good Labrador. Because there has been little interest in the fox reds until recently, there are very few good ones out of the few that do exist. Many people think they have a fox red but in truth they are dark yellows more of a butterscotch color and not red. However, a dark yellow bred to a fox red can produce a number of red puppies.

In the 70's or perhaps before, the trend in yellows, particularly in the U.S., went to the pale cream and there has been a big demand for them ever since. Most of the yellows were medium to pale yellow. In the past few years, however, we are seeing more medium to darker yellows, although not necessarily fox reds.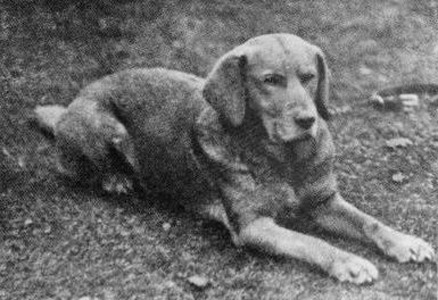 Ben Of Hyde


All our yellow Labradors are descended from Major Radclyffe's Hyde Ben (1899). His sire was Major Radclyffe's "Neptune" and the dam was Lord Wimborne's "Duchess". Both were black. This breeding produced the first yellow Labradors on record. The litter consisted of 2 puppies - both yellow. The bitch, "Juno" produced only black puppies but "Ben" produced yellows. "Hyde Ben" was a dark yellow. A dog termed as a fox red now was at that time called a dark yellow. The dark yellows were a dark golden or butterscotch color sometimes tinged with red. This was the true color of the original yellow Labrador. fter World War II the lighter yellows appeared and soon the dark yellows were seldom seen.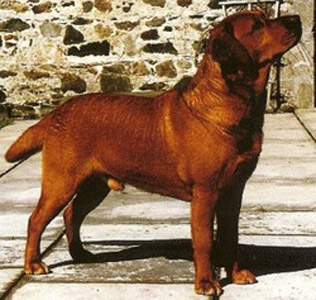 Ch. Wynfaul Tabasco


I have been raising Labradors for 34 years and in that time I never remember seeing a true fox red until, on one of my trips to England in the 80's, I saw Ch. Wynfaul Tabasco at a championship show. I had never seen a Labrador that dark before and he definitely was red. Not only was his color lovely but he had excellent conformation as well. He was owned by Mac Bedford of Scotland.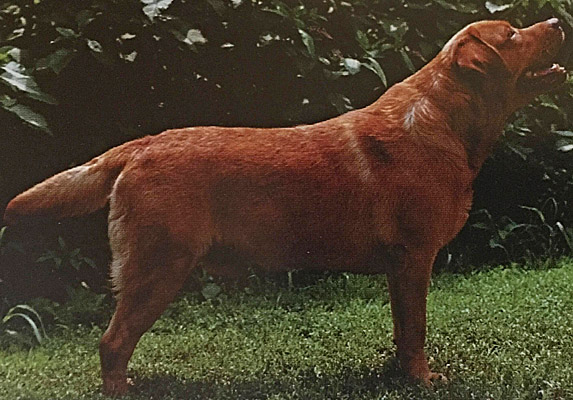 Balrion Red Alert


My first fox red was Balrion Red Alert, a son of Ch. Wynfaul Tabasco out of Lady Bountiful at Balrion. l purchased him from Glenda and John Crook. Because of Tabasco and the fox red breedings John and Glenda Crook have done, the interest in the reds has grown. A lot of their dark color has come through Ch. Balrion King Frost, one of the superb Labradors of his day.

I also purchased a fox red bitch puppy from Dot and Jack Galvin, Hennings Mill Kelleygreen Henna which was the only dark puppy in the litter. Her sire was Ch. Scartho Frost, a black, and Ch. Rocheby Rippling Corn, a light yellow. Again, Scartho Frost goes back to King Frost. Breeding her to Balrion Red Alert produced all fox red puppies. The darkest red I have, Kelleygreens Kardinal, was from one of these breedings.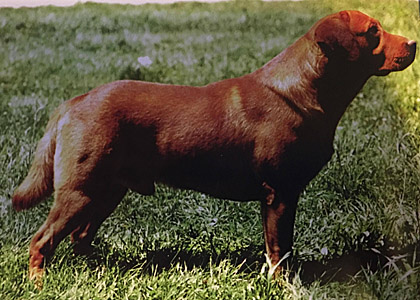 Kelleygreens Kardinal


I have bred Kardinal to a medium yellow bitch - not fox red - and she has produced all red puppies. Many times the puppies are a light fox red but as they mature they continue to darken over a period of one or two years to become a true fox red. I believe the term "fox red" is accurate because many of the dark yellows have no red or copper color in their coats. The shade is more ochre or butterscotch.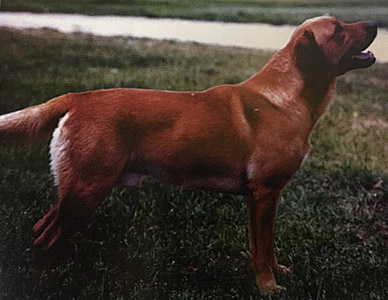 Kelleygreens Sharp Shooter


Some breeders believe the fox reds do not have dark pigment. I have seen and produced many with the dark pigment. If both sire and dam carry the chocolate gene you will get a few puppies that will have chocolate or brown pigment but many with blacks.

I have only one fox red that doesn't have dark pigment but when bred to a dark yellow that doesn't carry chocolate the puppies all have the black nose and eye rims.

As more dark yellow and fox reds appear in the show ring, it is hoped that judge and breeders will accept them for what they really are -- the original yellow Labradors!


Balrion Labradors - Louise Blunt, John & Glenda Crook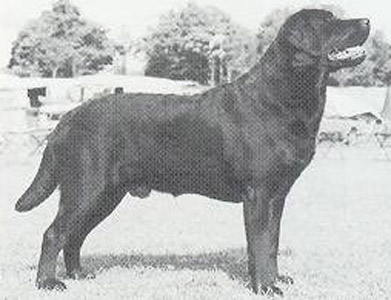 Sh. Ch. Balrion King Frost


From the very start we always preferred a darker yellow to a paler one. Having the likes of Hindlehurst Demerara Queen in the lines behind our founding lines made production of the darker color more likely. Our great Champion and sire Sh. Ch. Balrion King Frost always seemed to produce a very dark yellow in any mixed color litter of seven or more and this led us to follow the lines and develop the color. Mac Bedford of Wynfaul Labradors was also interested in the color and in King Frost-her efforts produced Ch. Wynfaul Tabasco, a dog very closely line-bred on King Frost. We had by this time brought in our own very dark yellow - Lady Bountiful of Balrion - daughter of Sh. Ch. Balrion Kings Ransom, himself a son of King Frost. We had a theory, that Fox Red to Fox Red would produce a purely Fox Red litter and as Tabasco to Lady Bountiful was an excellent linebreed so we went ahead with the mating. The litter seemed to prove the theory as the entire litter was Fox Red - one being Sally Kelley's Balrion Red Alert. The litter was repeated with unfortunately only three survivors - Balrion Reddy for Anything, who we kept, another dog sold locally to cover Roddy, and Balrion Reddy and Able who went to Germany.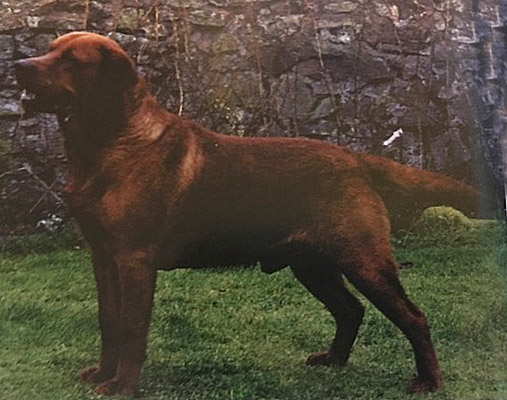 Balrion Reddy For Anything


Reddy for Anything (Roddy for short) has been selectively used at stud and has continued to reproduce his color in various intensities. You have photographs of Prickle, who is in Holland with Silronrays Labradors, and Flute (Flippant Flute of Balrion) - Roddys granddaughter and production of a total outcross to bring new blood into the line and color. Flute and her sister will be mated next year, the decision on stud dog is yet to be made - but it will certainly be a Red.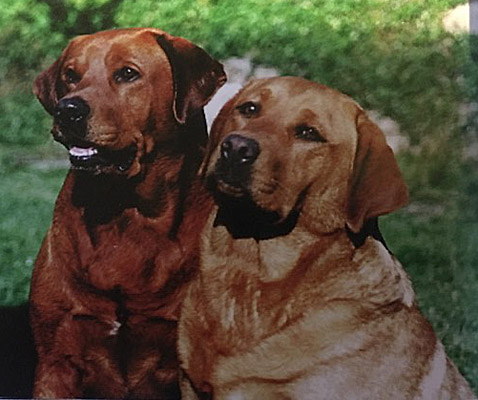 Balrion Reddy For Anything & Flippant Flute of Balrion


The color, and particularly the dog (Roddy), has caused very heated debate in the UK with opinion widely divided. It should always be remembered the Fox Red is the original yellow and the fashion over the years to breed paler and paler animals has caused people to lose sight of the true origins of the color. One only needs to look back to pictures taken in the early part of the century to see the depth of color in the yellows. Roddy is probably one of the most intense Fox Reds ever bred - his color is absolutely stunning, particularly in bright sunlight! He is not a freak but a pure bred, very typey Labrador - the product of careful thought and planning. He has continued to pass that color on to his progeny, as have other Reds used for breeding. We hope to be able to continue the line, and know that interest generated throughout the world should ensure that the color is pursued worldwide. What we must all be wary of, though, is breeding purely for the color and forgetting true Labrador type. As with Chocolates, care is needed in planning breeding. Commercial interest and anatomical 'hysteria' has ruined Labradors in the past and present and must not be allowed to do so in this case. I hope that this provides you with some food for thought, this contain some personal views, which have expanded on those of my parents.


Patricia Block - Sumo Labradors, USA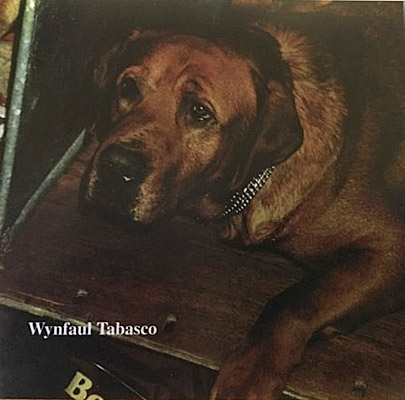 Ch. Wynfaul Tabasco


The bench shot of Tabasco was taken at Crufts several years ago, and it was the first time I'd ever seen a fox red ... fell in love with him on the spot. He is the only TRUE fox red I've ever seen. Most of the others, while they are very dark, have lighter yellow shadings at least leading down vertically from the top of the shoulders to the elbows. Tabasco has NO SHADINGS--he is truly a monochromatic fox red. Reddy comes the closest to being the same, but as you can tell from the photos taken at the Crooks' two years ago, he does indeed have some shading. All of these dogs darken with age.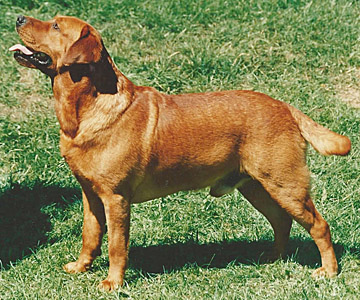 Ch. Wynfaul Tabasco


I don't know if you know this story of Tabasco's near tragedy: Several years ago, he had gotten the "ticket" which is unusual for that color in England. And, as a celebration treat, he was traveling home in the car instead of his usual crate in the back. He began to be sick (vomiting, etc.) and they pulled off the motorway and found an emergency vet. Apparently someone had poisoned him. If he hadn't been in the car instead of the back, he would have been dead by the time they got back to Scotland. As a result, his stomach is scarred and it is difficult to put and keep weight on him, but he remains the beautifully temperamented boy he always was. Not much has been heard from Wynfaul lately, so noone has seen him for a while. They haven't been to Crufts for a couple of years now. What a shame for those of us who come there just to see him!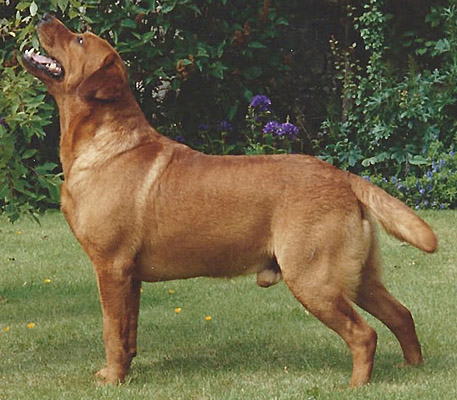 Ch. Wynfaul Tabasco


In addition to having the color in common, I think one of the most outstanding characteristics that these "fox red" dogs have is their temperament. To a one, the fox reds I have spent any time with (and that includes the fox red field dogs which are so numerous in the south), all have the same temperament -- one that is endearing, seeks attention softly and with vocal communication, and is faultless in its kind, intelligent approach to learning. It's as though they have all been cut out of the same temperament cloth.